Here are 7 fantastic gifts for bookworms that aren't books and under £20!
BOOKLOVERS CANDLE
These amazing candles from Frostbeard Studio have so many great scents to choose from. Sherlock's study, old books, or headmaster's office, there's even a wardrobe to Narnia candle that smells of snow, snow doesn't smell of anything, but who cares? I don't, I'm too busy browsing through their fantastic website and adding a million jars to my cart!
The candles in a tin are £3.50, and the larger ones are £9.75!
You can purchase them here.
2. BOOKLOVER'S TEA SET
If you are, or know, someone who loves books and tea, why not purchase this fantastic tea set?
This book lover's tea set is a lovely gift for bookworms and tea drinkers alike. Four packets of different bookish themed teas – perfect! 
This tea set is £15.00
You can purchase it here.
3. PERSONAL LIBRARY KIT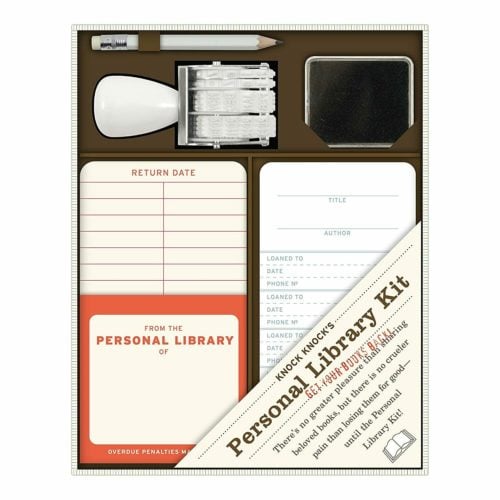 For a bibliophile, there's no greater pleasure than sharing beloved books, but no crueller pain than losing them for good―until the Personal Library Kit! Revive old-fashioned library circulation techniques for fun and book retention with this classic bestseller!
This personal library kit is £9.28
You can purchase it here.
4. BINGE-READING KIT
This kit is so awesome! It has everything you need for binge-reading: a microfiber cloth, decision coin, three bookmarks, ear plugs, lip balm, hand lotion, two coasters, facial tissues, a reading light, facial cleansing towelette, and a thumb page holder.
This kit is £20.00
You can purchase it here.
5. BOOKSOAP
These book shaped soaps are so cute!
You can get them for £9.00 on Etsy here.
6. ADULT COLOURING BOOKS
Books aren't only used for words! This beautiful colouring book is relaxing and has so many intricate designs to colour in.
You can purchase it on Amazon here for £19.56
7. BOOKWEIGHT
If you're a bookworm and prefer to keep your hands free, or enjoy eating while reading, then you should definitely purchase one of these bookweights. You can get them for £17.59 on Amazon here.
Thank you for reading, and let me know how you found this post below!
Don't forget to follow Penable, share and like this post.
Stay safe,